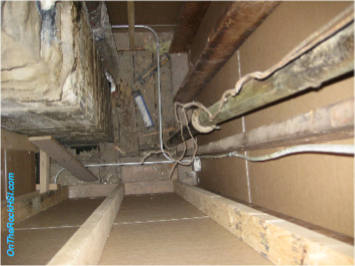 When inspecting the attic to see what could be done about warming up a cold wintertime bedroom, I discovered this chase, surrounding the chimney and a plumbing vent, open to the attic, with uninsulated walls, three of which were in the master bedroom. Upon showing the picture to the homeowner, she admitted that her room was a little cold, too. It was too tight to climb down, so as long as I was adding insulation to the rest of the attic, I constructed a load bearing cover for this void over which to insulate.
This small platform over the void became a convenient work surface and staging area while I was in the attic.
As the staging area, it was the last place to be insulated. Looks great....