Symptoms of the problem: Leaf litter and other organic matter clogged the gutter at the outlet causing water to overflow the gutter instead of going down the downspout.

Problem: The male end of the gutter outlet was crimped/swaged 90 degrees or more almost all the way around, not only forming a bottleneck to impede the passage of debris, but actually forming a hook-like snag to hold debris in place.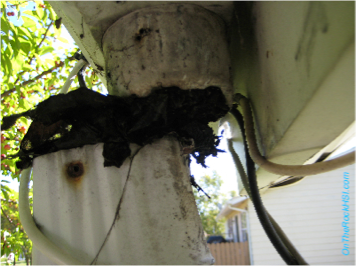 Solution: Uncrimp/unswage the male end of the gutter outlet (in order to diminish the bottleneck effect and to eliminate the hook-like snag) and install inexpensive gutter guards along the entire length of the gutter to prevent the lion's share of debris from making it to this point in the first place. Although it worked fine in this situation, the debris from certain kinds of trees with their small seeds and buds can slip past even the most expensive gutter guards. Just something of which to be aware....