A 60" cabinet supported not by the ceiling or its back but only by its two ends is aesthetically pleasing...
...but lacks the framework to keep from sagging when loaded with plates and glasses. Note the uneven door corners by the knobs...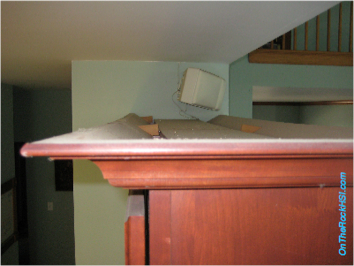 ...and the dip in the crown along the top.
The solution involved mounting two pieces of steel angle to the top of the cabinet with fat screws reaching down through the angle and into the middle of the top of the cabinet, thereby pulling the cabinet up and suspending it at level.
I intentionally overdrew the middle of the cabinet upward by about 1/16th of an inch to account for the extra weight of the plateware and glassware when the cabinet would be fully loaded.