Normally, I prefer not to apply temporary fixes to problems that really require more attention, especially when the "fix" basically masks the real problem. Usually in these situations, it becomes too easy to ignore the root issue for too long, which often results in more extensive and costly damage down the road.

Occasionally, however, there are times when I allow myself to put a bandage on something that actually needs a lot more work. Case in point, the badly rotted out jamb of this patio door.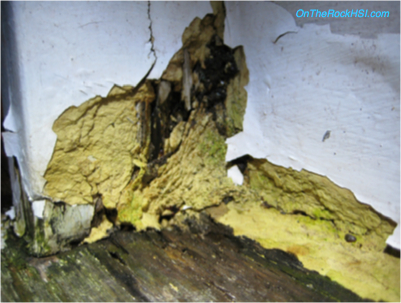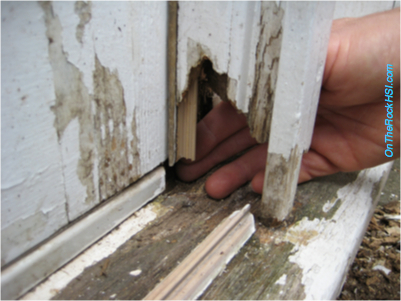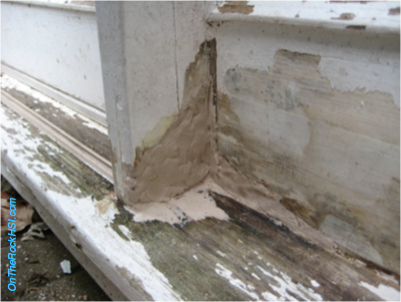 First, the old patch and all rotted wood must be removed.
Finally, a skim coat of regular wood filler is spread over the surface. It will be sanded, primed, and painted by the painter who paints the whole door.

Although this looks good now, I would not expect to get more than 1 or 2 years out of this patch.
You can see in the next couple shots that it is so bad that at least one patch has failed already. (On one side the yellow wood filler has crumbled; on the other side, it is ready to.) If left this way, liquid water will begin to penetrate the interior flooring and/or subfloor, causing further damage.
Relying upon the main filler's ability to adhere to the existing wood is unacceptable. Instead, coated deck screws sunk into solid wood provide positive engagement for the main filler...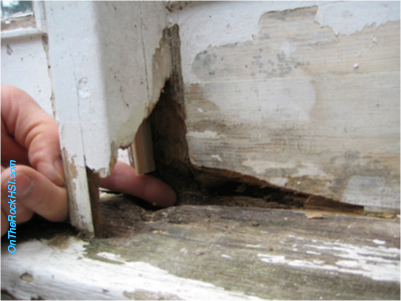 ...which is an epoxy product. Though epoxy will far outlast the rest of the door, the homeowner was informed that it is impossible to arrest the rot's progress on a door in such an advanced state of decay.